Common Flatwing - Austroargiolestes icteromelas
FAMILY MEGAPODAGRIONIDAE
This page contains information and pictures about Common Flatwing Damselflies that we found in the Brisbane area, Queensland, Australia. They are also known as Australian Flatwings.

Female, body length 43mm
The Common Flatwings are medium in size. Their bodies are long and slender, with a bright metallic blue colour. When they are at rest, unlike most other damselflies, they held out theirs wings horizontally.

Male Male

They have very small antennae but very large compound eyes. Their mouths are very good at biting.

Like all other dragonflies and damselflies, they do not use their legs for walking but for capturing other flying insects in the air.

Female Female

The Common Flatwings are easily found along the Bulimba Creek and other creeks in Brisbane. We seldom see them near still water ponds. They are usually found near slow running water. They can be found even in mid winter, while most other dragonflies and damselflies can hardly be seen.

Male Male

They like to rest within a few meters along the creek, in the shaded area. We sometimes find them in large group resting among plants. They perch on leaves, fly a short distance when disturbed. They seem do not worry on our close approach and we can take many close-up pictures without too much trouble.

When they are at rest, they usually held out theirs wings horizontally,

but some females sometimes rest with wings folded up.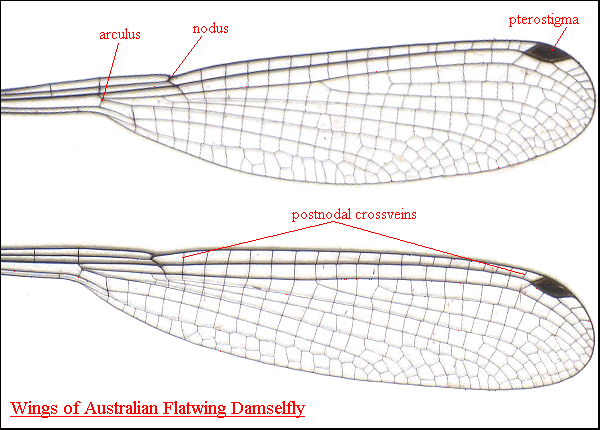 ---
Reference:

1. The Australian Dragonflies - CSIRO, Watson, Theisinger & Abbey,1991, p162.

2. A Field Guide to Dragonflies of South East Queensland - Ric Nattrass, 2006, p26.

3. The Complete Field Guide to Dragonflies of Australia - CSIRO, GŁnther Theischinger and John Hawking, 2006, p48.

---
&nbsp